..I kick ass!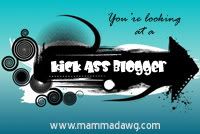 An audience of one is sufficient to make a difference. Were my hunny the extent of that audience, I'd still have a reach that matters for such support is not to be taken lightly. Knowing neither of us offers compliments to be naught but nice though, RhodesTer declaring me a "kick-ass blogger" makes me damn proud.
The hella cool madness of it all is I do have an audience. As I've expressed, I'm here because I'm addicted to people — not just coffee — & this is my virtual café. I've had a simultaneously good & odd life that's allowed me to turn my thirst for knowledge into wee bits of wisdom. There's nothing I enjoy more than sitting down over a beverage with someone & shooting the shit, from the sublime to the silly. With each post, I take a break from behind the counter; with every comment, you grab a table & stay a while; meanwhile, we all come & go, topping up our mugs as needed.

Bonus of all bonuses, by including my WordPress.COM blog — along with this WordPress.ORG concoction — as further proof of my ass-kicking, my hunny introduced the fledgling endeavor to the blogosphere. Over the years, that domain was a consistent means of finding me online but this blog is my permanent home away from home. Determined "coffeesister.com" should remain an introduction to me & tired of being a poet without poems, my old domain now complements this one by providing an outlet for more spontaneous missives.
To continue the complimenting & complementing alike, it's time to do as MammaDawg asks (cuz Mamma said so):
Do you know any bloggers that kick ass?

Maybe they've got incredible, original content. Or they're overflowing with creativity. Is it someone that helps you become a better blogger? Or a bloggy friend you know you can count on? Or maybe it's someone who simply inspires you to be a better person… or someone else who sends you to the floor, laughing your ass off.

Whatever the reason may be, I'm sure you know at least a couple of bloggers that kick ass. Well… why not tell 'em so?

LOVE ON 'EM

Choose 5 bloggers that you feel are "Kick Ass Bloggers"
Let 'em know in your post or via email, twitter or blog comments that they've received an award
Share the love and link back to both the person who awarded you and back to www.mammadawg.com
I've already shared the Twitter love so I'm going to offer up some EntreLove this time. If you've ever clicked through from ad to ad, you know how hit & miss the EntreCard network can be. There are some kick ass blogs to be found along the way though. Case in point is CopyWrite which is where RhodesTer's ass-kicking status originated &, considering the source, it's quite the compliment indeed. Since the hidden gems are what ultimately make "card-dropping" worthwhile, I'm presenting five blogs that I not only found via EntreCard but wouldn't have found otherwise.
(|_|*cheers*|_|)
"Blogging is an art, same as any other method of self-expression.
Some are better at it than others."
~ Hugh Macleod ~
(consider gapingvoid a bonus blog for it does kick ass)